"Just received my bouquet and it is just what I wanted! It is so pretty! Perfect for our beach wedding. Thank you so much!"
Lisa Todd, Kentucky

Beautiful bride and talented architect, Damara, shares her wedding day photos featuring custom made bouquets, boutonnnieres and corsages - read more about Damara's Seashells In Bloom experience on her blog, 33 Bridges. Photography by Olivia Gird Photography.
-Damara & Steven, Rhode Island
"I am passing a few pictures along from our wedding. They came out so pretty I thought you may want to use them too!
Thanks for all your hard work with the bouquet and boutineers. Everyone looked fantastic!! "
Jess Z,
"Just wanted to share this photo from our wedding in. The Kissing Balls were lovely and very much admired. We really loved them and want to thank you so much for taking such care in preparing and shipping them."
Wendy, Cape Cod, MA
"The bouquets and boutonnieres are so beautiful. I'm so glad I found them for my beach-themed wedding! I got compliments all night long and they were the highlight of the wedding. My bridesmaids went crazy over them! I now have my bouquet in a curio cabinet on display. It was the most beautiful part of the day. Thank you SO much!"
Jess, FL
"I just received my order and wanted let you know: this bouquet is absolutely stunning! Thanks for the hard work."
-Ashley, Florida
"I received the bouquet last week and I love it! Thank you for arranging it and sending it in time for my wedding. I will be sure to send pics and write rave reviews about your company on yelp and the website! :-)" And here is a very kind Yelp review!
-Evelyn, Nevada
"I wanted to let you know that I received my bouquet and it is absolutely gorgeous! I can not thank you enough. I will most certainly send you a picture when I get married in September. Your site is amazing and I have sent many of my friends to come check it out. Thank you again!"
Stacey, New Jersey
"I just wanted to let you know that I was truly impressed with the quality, creativity, and craftsmanship of my wedding bouquet, the matching boutonniere, and the individual flowers for the bridesmaids bouquets. Brian was so pleased with his "flowers" and the girls gushed over theirs too. They're so pleased that they'll have a keepsake from the wedding. Your work is absolutely incredible and such a perfect complement to my Cape wedding. Thank you so much for everything!"
Lauren, MA
Stacey, New Jersey
"I have finally gotten around to sending you pictures from my daughter's wedding. Everyone loved the seashell corsages, boutonnieres & kissing balls. We were told that they really made the beach wedding. I hope you enjoy the pictures as much as we enjoyed your shell creations.
Thank you for your wonderful work."
Brenda
"Thank you so much for providing such beautiful flowers for our wedding. I had so many wonderful compliments on them! You need to open a store in San Diego! I'm confident you would have plenty of business. Thanks again!"
Lexi - San Diego, California
"You did the flowers and boutonnieres for my wedding last August. I just wanted to thank you so much and send you a nice pic of the bouquet. Enjoy!"
Gratiana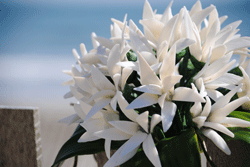 "I received my bouquet and other merchandise from you last night and all I can say is ---WOW!Everything is gorgeous and just what I was looking for. Thank you so much for all your time and effort. Your items are going to make my wedding extra special. "
Ginger
"The flowers were perfect and I wanted you to see just how perfect they were with the necklace. It was a spectacular day and my bouquet will last forever to remind us. I might be the only one in my office to bring her bouquet to work! Everyone loves your work as much as we do! Mom has worn her corsage a few more times!"
Many thanks!
Nora
Thank you so much for my order! Both items were beautiful! My cousin absolutely loved them. I also wanted to thank you for enclosing a thank you card in the package. You truly exceeded my expectations!
Stacy
"I haven't had a chance to write but I received everything and it is all absolutely beautiful!!! I actually opened the boxes during my shower so all the girls saw the pieces - everyone was so impressed by the uniqueness! You do beautiful work. Thank you for helping me make a wonderful day!!
Lu
"Everything came in perfect order. My bouquet was the talk of my wedding. Thank you so much."
Elma
Please reload